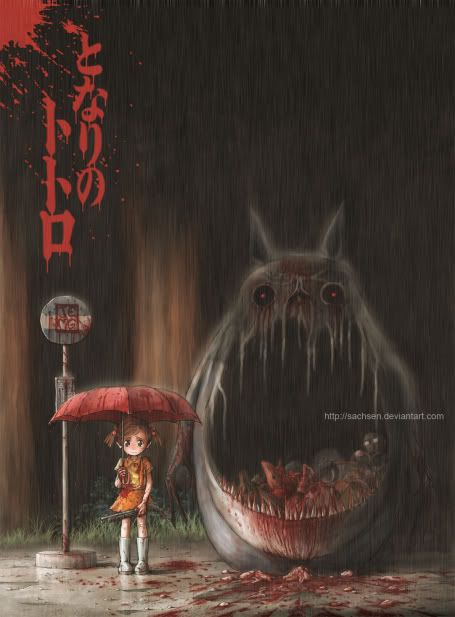 First off, how epic is that picture above? We've all seen My Neighbor Totoro once in our lives, but what about … My Nemesis Zombie Totoro?… Yeah, me neither. That was pretty lame of me. I need to get back into the groove of things. My bad.
After seeing that picture, I just had that urge once again to just blabber on about something. It was the same feeling I got when I decided to do the Slice of Life post. It'll start off as something awesome in my head but not convert to anything good in post-form as you soon may find out. But why the hell not. I have to start writing again as I will be taking a creative writing course next semester and I have all this jibberish to throw at you about what I've learned about monsters and make it falsely seem as if I was an intelligent person (read: a historian. Ooooh, burn, Allegro… don't fail me please. I'm just kidding. Really.).
So that picture above, it reminded me of a conversation I had just yesterday with Wildarmsheero about depth in anime. To him, shows like Code Geass are shallow, one layer, poser shows while Gurren Lagann is a multi-layered complex web of lies, deceit and win (my interpretation). Now I haven't finished GL, but I must say, it was pretty epic, what I saw and I will eventually finish. Geass, well, Geass also excited me and I saw all of it. For me, unless the anime is shoujo/jousei I'm not gonna go past that first layer for my pleasure and entertainment. And that's precisely what makes me -and probably most of you- a monster.
Monsters, as I've painstakingly learned over this course of my first year of college is not really what it sounds like. There are really no monsters in anime, per se. That Totoro in the above picture is not a monster. All the creatures in Spirited away and GL are not monsters. They're pretty much like you and me if you've seen enough shows. What I mean to say is that in every show there is someone different from us. That's what makes anime/manga appealing to us in the first place, is it not? So with everyone being so different from each other, if we all clump it together, no one person can be given their own ontological category as different enough to be a "monster". Alucard from Hellsing and Chi from Chii's Sweet Home are both monsters in their own weird sort of way. You see Chi's intent to kill that mother when she tried to give him a shower? "Bad kitty."
The true monsters here are us. That's right you smelly otaku and ani-bloggers. I'm a monster for thinking that I'm better than most ani-fans I see because my e-pen0r is so huge, I admit. But what makes me truly a monster is not being moved while and/or after watching a show. It's like rubbernecking on the road. As you drive past carnage on the side of the road -or in the road for that matter- you want to be that person who blew that car up. That's just enjoying only one layer, though, is it not? When watching Shoujousei type shows, I want more. In Honey and Clover, I was given more when I was able to look inside Hagu's beautiful mind. Yeah, sure, we want Yamada to eventually beat the crap out of Mayama but dont you want to see that tornado inside of her heart when she's physically battling Mayama? I sure do. I love this crap.
Going back to my conversation with Wildarmsheero, he's not technically right. If you can make it complex enough to derive more than single-layered pleasure, then you've done that show justice. Hopefully I haven't ruined anything. You probably aren't even reading this post anymore. All that mumbo-jumbo above was influenced by all the classes I've had and my urge to just scribble it all down, you dont have to get any multi-layered pleasure from reading this (I hope you did, though). Now just, just go enjoy your show, but not just enjoy it, SUPER enjoy it.
Now Lolikit on the other hand… he's just a monster no matter which way you look at it. He's not a retired ex-aniblogger, he's a monster.
Also, in no way do I condone or accept deviant art, but this artist deserves a linkage.